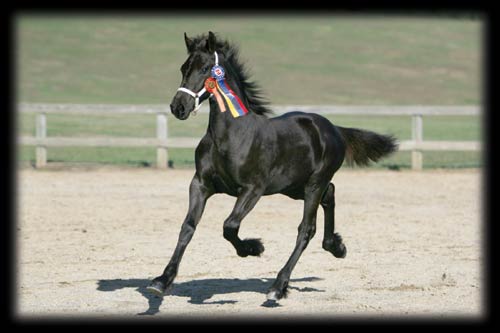 Sjearsjel First Premie Grand Champion Filly
10/17/05
For Immediate Release
Townshend, VT – It was a triumphant day for Friesians of Majesty with top honors having been paid to ten out of the eleven horses presented at this year's New England keuring. "It's been quite a thrill to raise a champion," relayed an ecstatic Robert Labrie, owner and manager of the stately 650 acre Friesian farm in Townshend, VT, "but to have ten in one year, it's almost unbelievable." However, he was quick to attribute much of his success to careful stallion selection and hands-on foal care. "There is no substitute for being there," he maintained. "Each new born is immediately imprinted and handled continually. My goal is not to breed the most Friesians but to breed the best."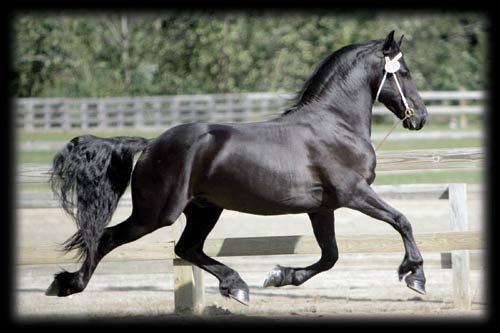 Bente awarded First Premie Ster and Reserve Champion
And he is well on his way as Sjearsjel, a Feike filly out of full papered mare, Tetske, won Grand Champion Filly with a First Premie rating to equal last year's grand champion winner and full brother, Olrik, who was also born and raised on the farm. Further testimony to the winning formula, the five-year-old gelding Bente, won a First Premie Ster and Reserve Champion Ribbon with pasture mate, Douwe receiving a First Premie Ster.
Ymkje, first ever, in New England, awarded Provisional Model Mare
But the crowning jewel went to Ymkje. With her 17.1 H stance and long graceful neck, she exhibited such extraordinary movement and stature she received the coveted title, Provisional Model Mare, the first ever to be awarded in New England. Sired by the legendary stallion Teunis, Ymkje is the dam of Mayken, the winner and First Premie, Grand Champion Filly in 2004.
Tribute was also paid to Ster recipients, Esther (mare), Feike and Gurbe (geldings), Sarassina (filly), and Robyen and Sjoeke (colts), assuring their top 20% status and placement in the studbook.
Renowned judges, Piet Bergsma and Haike Vandermeulen, traveled from Holland to Woodstock, Connecticut to officiate over the keuring, the international yardstick by which the breed is appraised. Evaluated according to strict guidelines, Friesian Horse Council of New England's President, Bob Gregoire, explains, "The horses are judged on two counts: in-hand to demonstrate the quality of movement, which comprises 60% of the score and conformation, which makes up the remaining 40%. The keuring is essential; it is the control that ensures our registry adheres to the highest breeding standards."
Continuing in his efforts to maintain the integrity of the breed, Robert Labrie is making plans for his champion model, Ymkje, as he simultaneously prepares for the next foal crop due in the spring. "I'm looking forward to having five new babies on the farm and to doing my part to help perpetuate the beauty of these remarkable horses."
Friesians of Majesty, located in the heart of Vermont's Green Mountains, is a 650 acre full service breeding and training facility complete with a 100' x 240' indoor arena, resident trainer, and live-in staff. Friesians of Majesty welcomes visitors by appointment. For more information, visit the Friesians of Majesty website: www.friesiansofmajesty.com or call 802.365.7526
---