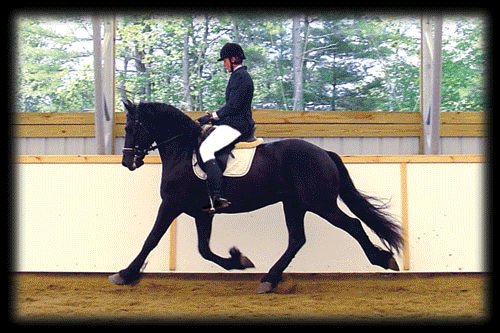 A Unique Vermont Experience!
A Friesians of Majesty equestrian tour and show performance creates a magical experience in Southern Vermont!
Friesians of Majesty invites you and your guests to visit our horse farm for a unique experience. Learn about the history of the farm and the special relationship that Robert has with his horses. See our beautiful, majestic Friesian horses and witness their wonderful temperaments. During your visit you will meet our spectacular stallions, Othello & Gerhart and will have the opportunity to interact with their babies in the mare & foal barn. We will show you the versatility of the Friesian horses in a show where driving is demonstrated, and a beautiful Friesian mare will run at liberty with her baby by her side.
The tour and show takes approximately 2 1/2 hours. Audience questions are encouraged, and photo opportunities abound with our unique horses.
PRICING
Large Groups & Motorcoach Tour Bus Bookings
To secure a date for a tour and show for a large party of 20 or more guests. Please call us for Available Group Dates. We will attempt to accommodate your desired date(s).
Our performances make a wonderful addition to your Vermont Vacation. Take the morning to explore the Vermont countryside or shop in our quaint stores. Make a stop for lunch than experience the Majestic Friesian Horses in the early afternoon before heading back to your hotel.
Individuals and Small Parties
Performance & Tour - $25/person
Individual Tour (no show) - $10/person
Reservations are required
See our show schedule below for currently available dates. This schedule is subject to change and we will be making updates regularly so please check back to see if new dates have been added. Reservations will be confirmed with you 2 weeks prior to the performance date
None of our dates fit your schedule but you would like to visit our farm? Call and book an individual tour of our facilities. Individual tours don't include show or performance of the horses, however you will learn the history about the Friesian Horse Breed and the Friesians of Majesty Farm all while meeting our beautiful stallions, mares, and their babies and having the opportunity to give them all a scratch or two.
**Please Note**

Dates are subject to change

Due to the significant amount of labor to create our performances we require a minimum attendance of 20 guests to perform.

We ask that our guests arrive no earlier than the scheduled time.
May 2023
Wednesday, May 17 at 2 pm
Thursday, May 25th at 2pm
June 2023
Saturday, June 10th at 2pm
Sunday, June 11th at 2 pm
Monday, June 12th at 2 pm
Tuesday, June 13th at 2pm
Friday, June 16th at 2 pm
Thurs, June 29th at 2 pm
July 2023
Wednesday, July 12th at 2pm
August 2023
Weds, August 16th at 2 pm
September 2023
Tues, September 12 at 2 pm
Thurs, September 21 at 2 pm
October 2023
Monday, October 2 at 1pm
Tuesday, October 3 at 2 pm
Wed, October 4 at 2 pm
Thurs, October 5 at 2 pm
Thursday, October 12 at 2pm
Sunday, October 15 at 2 pm
Thursday, October 26 at 2 pm
Looking for a place to stay during your visit?
Keep in mind that we have accomodations on premises for horse enthusiasts.