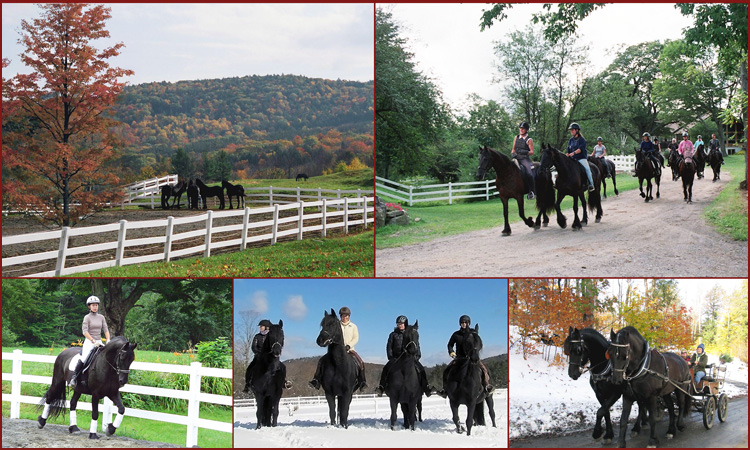 Immerse Yourself in all things Friesian!

Our Friesian Fantasy Women's Camp is a unique 3-day equestrian adventure full of Friesian fun!
The weekend includes riding, driving and harnessing instructions as well as everything you want to know about Friesian management such as grooming, nutrition, health care, handling and training methods.
Experience riding one of our majestic, well trained Friesian horses! We teach lessons to all levels of riders and have the perfect horse to match your abilities. Our instructors can help you improve your riding techniques regardless of your discipline.
Learn to drive a single horse in our state of the art indoor arena and by the end of the weekend, drive a pair of Friesians on a picturesque Vermont road. You may even get to drive one of Friesians of Majesty's world champion driving pairs who have been featured at Equine Affaire and the Horse World Expo.
You can learn about our breeding program and witness ultrasounding, stallion collection and possibly see an embryo transfer. Meet our mares and foals and learn about our special foal imprinting process.
Friesians of Majesty is a working horse farm and we would love to share this unique experience with you!

This delightful weekend is just $775.00 per person.
We look forward to making your year extra special with this unique getaway.
2024 Women's Camp Dates
October 27, 28, 29, 2023
May 17, 18, 19, 2024
June 21, 22, 23, 2024
July 19-20-21, 2024
August 16, 17, 18, 2024
September 20, 21, 22, 2024
October 25,26,27, 2024

Call 802-365-7526 or This email address is being protected from spambots. You need JavaScript enabled to view it. contact us for more information.
All levels of riders accepted.
Deposit required to reserve a spot. Deposit can be used to reserve a different spot
if life gets in the way, otherwise deposit is not refundable.
Click here for the Women's Camp registration paperwork PDF to print!
Mail to: Friesians of Majesty PO Box 527 Townshend, Vermont 05353 Email to: This email address is being protected from spambots. You need JavaScript enabled to view it.
"Our campers have not wanted to leave at the end of the experience! Coming from all areas and walks of life, these ladies have made new friends with each other, with us and of course, our wonderful Friesian horses! We look forward to continuing this fine tradition every year." - Robert Labrie
"Truly amazing! Our April '09 women campers witnessed TWO Friesian foals being born. Their reaction was that 'this experience is absolutely priceless'"! - Robert Labrie
Women from across the United States and Canada are coming to Vermont to spend three glorious days immersed in everything Friesian, from riding and driving to hands on with our new foals, as well as breeding and much, much more. The consensus is unanimous, it is one of the best weekends of their lives!