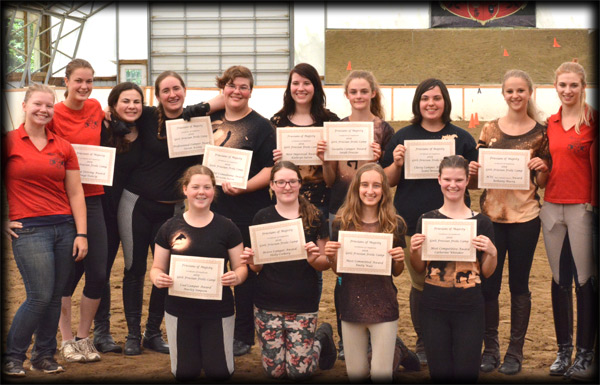 Friesian Frolic Summer Camp for Girls!
Make her dream come true!
2015 Camp a Huge Success!
Ready to get some hands-on experience with beautiful and gentle Friesian horses? If so, come to Friesian Frolic Girls Camp!
A Week of Fun With Friesians!
Looking for a new experience for your horse crazy daughter, niece, or granddaughter?
Our Friesian Frolic Camp is sure to delight any young lady, whether they're a beginner or seasoned horse handler.
Girls between the ages of 12 to 18 can experience a once in a lifetime adventure for 7 days.

Enjoy learning all about grooming, nutrition, horsemanship, health care, training methods and the breeding process as well. Our professional instructors will teach you classical dressage as well as driving techniques. You will have a chance to help around the farm, handle our foals, participate in equestrian activities, and make new friends while you are here.
At the end of the week, proud parents, family and friends can come watch a demonstration put on by the campers!
Our campers stay in our fully furnished dorm housing and participate in everything Friesian under the trained supervision of our awesome staff! Camp is all inclusive at $1,250.00.
Girls Camp 2020
---
July 12 to July 18, 2020
For Camp Registration Paperwork Click Here!
Deposit required to reserve a spot. Deposit can be used to reserve a different spot if life gets in the way,
otherwise deposit is not refundable.
Call 802-365-7526 or contact us for more information.