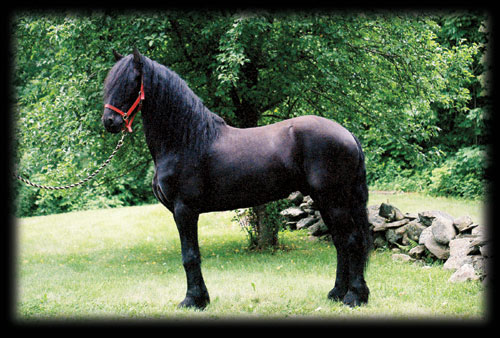 Dear Robert,
I had searched for the "perfect" Friesian for three years before I came to Friesians of Majesty during their first ever Open House. The facility is amazing and impeccably clean and best of all, all the horses are calm, healthy and are treated like royalty.
During the Open House Robert and Heather were running horses at liberty in the amazing indoor arena when they brought out "the one". My heart dropped to my knees, along with my jaw, when I saw him. I had butterflies in my stomach and I think my heart skipped a couple beats. I'd never seen an animal as beautiful, as calm and as regal as Jochum. It was love at first sight, I couldn't be without him.
After nearly five month's together, Jochum's huge heart, loving personality and easy temperament have come through and he's even more amazing. He is the "perfect" Friesian I searched for so long. We spend the majority of our time together on road and trail rides and he's progressing quickly, he's an amazing companion and an incredible friend. No matter how stressful a day is, I know that if I go to the barn at night and hug Jochum's neck, he will always rest his head on my shoulder as if to hug me back and all my stress is instantly lifted. I'm so thankful to have found him. I can't begin to thank Robert and Heather enough for assisting me in finding my perfect companion.
Diane Poulin
---
Dear Bev and Robert,
Thank you for taking the time to show Laura, Sam and I around yesterday. I can't tell you how impressed I was with the farm itself, the gentle ambiance it projects and the methodical manner in the way it is managed. Given those circumstances one cannot help but strongly suspect that the exquisite appearance, quality and, most of all, remarkable behavior and disposition of your stock are almost exclusively the product of their surroundings even considering their obviously superior breeding. Thanks again.
Charles C.
---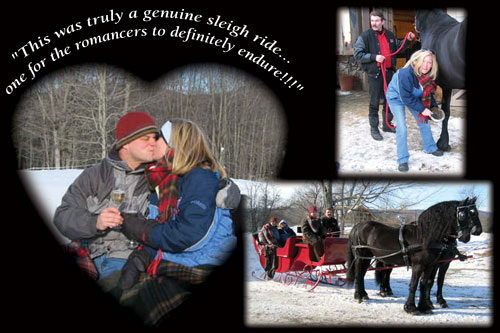 Dear Robert,
Attached are the pictures we had from our wonderful, memorable and extremely generous sleigh ride and tour of your barn on our honeymoon. The sleigh ride was romantic, your horses are beautiful with their beautiful chiming bells as they took us through the woods and around the snow covered hillside of your property. This was truly a genuine sleigh ride...one for the romancers to definitely endure!!!
Your presence and speaking with you about your horses, and seeing your beautiful Model Mare, Ymkje, was something we will never forget. Thank you for your kindness, generosity and the lovely set up at the cabin where we shared hot cider, cookies and pleasant conversation by the fire. What a wonderful ending to a wonderful day at your ranch.
Our experience was definitely worth the price, something I don't think anyone could experience elsewhere...Happy New Year! We will be back!
Patty and Jeff Burling
P.S. We'll see you again next year!
---
I was lucky enough to attend the Friesian Fantasy Woman's camp and it was one of the most memorable experiences-one to last a lifetime. My camp date was the weekend before the kuering, so the entire weekend was packed with activities for me and the other ladies who attended. This was my first opportunity to get up close and personal with a foal! They are so wonderfully soft! I got to feel the teeth of a stallion during a visit from the dentist and see the first spark of life during several amazing ultrasounds!
How many people can say that they got to drive a world champion carriage horse? I can, and I can also say that I left one cone standing! Several riding lessons gave me new skills that I was able to bring home to use with my own lesson horse.
I had horses growing up and I learned more in those 3 days about horses than I had the entire time living with our own horses.
I can't say enough good things about the Labrie family. Bob and Laurie are amazingly generous with their time and their horses-they are true ambassadors for the Friesian breed and the love that Bob has for his horses is very evident to anyone who has talked to him or visited his world-class stable. I know that I will go back for another woman's camp in the future.
~Terry Boczar
---
Yesterday my husband and I came on a Wade bus trip from Schenectady, NY. My husband owns and races Standardbred harness horses. We were unfamiliar with Friesians but can now tell you we are fans! Thank you so much for your wonderful sharing of the story of your involvement with these beautiful animals. You took such great time to tell us all about your love and pride in them. I look forward to receiving newsletters and keeping up with their performances. I also got some lovely movies and a lovely picture of Othello that I can't wait to share with the family. Thank you again!
~Jackie Lotano
---
Dear Robert:
I recently visited Friesians of Majesty with my friend Karyn Cordner and my son Dustin. I wanted to send my sincere appreciation for all the time you took to make our experience very special. We are all amazed at the passion you show for all of your horses. It is hard to come by and it is truly a gift. We all had such a wonderful time and we will definitely be back in the future for more lessons. I am amazed with Othello and hope that somewhere in the near future we will be able to perhaps purchase one of his offspring. Again, thank you for a wonderful day, and please pass our appreciation to the rest of the staff as well for taking the time and making us feel special during our visit. I am sure you will have some additional visitors that I have recommended your way. Though we are 2 hours away it is worth the trip.
Happy Holidays and enjoy the snow!
Sincerely,
Melissa J. Murphy
---
Dear Robert, The team of Friesians of Majesty,
Thank you very much for the wonderful sleigh-ride and the tour of your premises we had on the 19th December on your farm with Gurbe and Jelke. We had so much fun, and the kids just loved everything about it! The scenery is amazing, the forest is enchanting, and the horses are very well trained, and are very beauful and gentle. We will definitely be back!
Olga and Owen Michaud
Katia and Danil Lapshina-Abouayoub
---
Hello Robert,
My Husband and I spent our honeymoon taking a beautiful sleigh ride, driven by you with your Fresians, on your amazing property. This was 6 years ago today, and as we celebrated our 6 year wedding anniversary on December 9th, 2011 we recalled the amazing time we had while visiting you. You took us through the barn and introduced us to every one of your amazingly beautiful creatures, your Fresians, and you even teared up a few times when you spoke of the love you have for your horses. You let us walk them, and you rode one in your indoor arena, and let me even clean out a hoof of one very beautiful Fresian, to whom I became very attached very quickly.
Jeff and I were looking at your site and were so delighted to see that our picture and story of our honeymoon is still there! I recall when you phoned us to ask if we could send you some pics, as I believe you were just getting started on updating your website. I don't think I ever wrote back to you that your site is beautiful, and we love what you did with the pictures! It sure brought back some amazing memories of beautiful moments spending the day during our honeymoon, with you and your horses. We still talk about how nothing could ever top the time we had out there for our honeymoon, and although we have had a wonderful marriage, and wonderful times, nothing has come close to the time we had that day out there. 6 whole years now, and we still think of the time we had there as if it were yesterday. We hope to return very soon, if you will have us.
Take care of you,
Patty and Jeff Burling
---