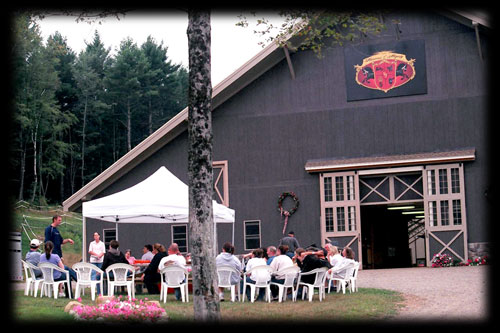 Friesians of Majesty's Keur Clinic with International Dutch runner Siep Bangma prepares New England Friesian horse owners for the upcoming keuring
For Immediate Release:
TOWNSHEND, VT – On August 19, 2006, approximately 55 people, of which 10 brought their Friesian horses, gathered at Robert Labrie's Friesians of Majesty in Townshend, VT. The horses were evaluated by the Dutch runner, Siep Bangma, in preparation for the upcoming keuring being held in September. Siep Bangma and Judith Slofstra, both from the Netherlands, were invited by the Northeast Friesian Horse Club (NEFHC) to provide the clinic.
Image
Since keur season can be stressful, the NEFHC and Friesians of Majesty invited Siep to evaluate the participating horses by explaining their strong points and weak areas. Siep gave suggestions on what exercises to work on once the horse was back in its own barn and also how the horse should be presented on keuring day. Judith went over clipping suggestions and bridle/halter options. The horse owners, as well as the auditors in attendance, concentrated on the suggestions that were offered in order to learn tips so that their horse would be at its best on that special day.
Each year, judges travel from Holland to the United States to officiate over the Friesian keurings—the international yardsticks by which the breed is evaluated. The keuring is essential to the Friesian breed, as it ensures that the FPS (Friesch Paarden-Stamboek) registry adheres to the highest breeding standards. A Friesian's score is based 40% on his conformation—the physical attributes attained through breeding. The other 60% is based on the quality of movement at the walk and trot, which are evaluated in-hand.
Siep Bangma has been coming to the states for years running some of the finest horses in this country. He has handled many of the stallions at the Holland Stallion Show and personally handles the famous approved stallion Jasper. You may also have seen him long lining Anton 343 and running Labrie's Provisional Model Mare, Ymkje, in the fall of 2005 during the breed demonstrations at Equine Affaire in West Springfield, MA.
In addition to the Keur clinic, Friesians of Majesty also opened its farm for a one week training session with Siep immediately following the clinic. It was at this time that Siep spent additional time with the participating horses to further train them for the keuring.
Friesians of Majesty, located in the heart of Vermont's Green Mountains, is a 650 acre full service breeding and training facility complete with a 100' x 240' indoor riding arena. Friesians of Majesty provides horses for sale, year-round training, breeding, foaling, carriage rides for weddings and the quintessential Vermont sleigh ride. Friesians of Majesty welcomes visitors by appointment.
---