FOR IMMEDIATE RELEASE
Townshend, VT – Friesians of Majesty will be hosting the Majestic Friesian Performance at its 650 acre equestrian center located in Townshend, Vermont. There are more than thirty performances already scheduled with more to be announced as they become available.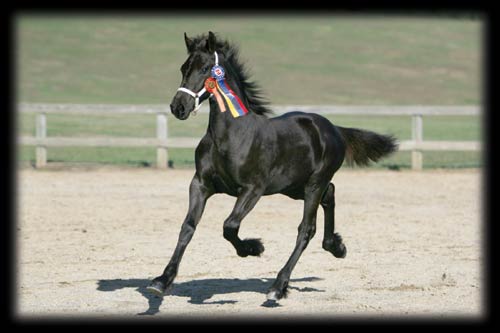 Sjearsjel First Premie Grand Champion Filly
Friesians of Majesty has partnered with New England tour bus companies and inns to become a Vermont tourist attraction. By opening up its 100' x 240' indoor riding arena for an exhibition of the Friesian breed, Friesians of Majesty will showcase the elegance and beauty of the breed to anyone interested in attending.
Attendees of the Majestic Friesian Performance will enjoy an elegant carriage ride and interact with our beautiful horses in a guided tour of our European style barns. They will also watch a captivating show as our drill team performs to music; dressage freestyle is exhibited; driving is demonstrated; and a majestic Friesian runs at liberty.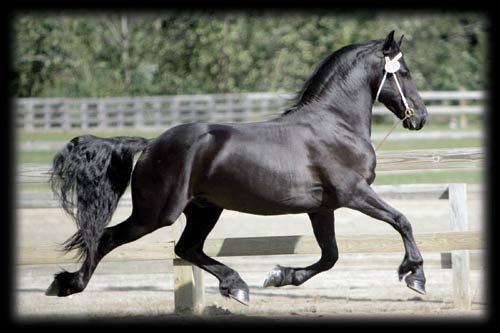 Bente awarded First Premie Ster and Reserve Champion
The Majestic Friesian Performance schedule is listed on the Shows page of our website, www.friesiansofmajesty.com. Seating is limited and reservations are required to attend. The cost is $25 per person.
Friesians of Majesty, located in the heart of Vermont's Green Mountains, is a full service breeding and training facility devoted exclusively to maintaining and improving the nobility of the majestic Friesian. Friesians of Majesty is home to over 35 Friesians, including Ymkje, Model Mare and Grand National Champion. Friesians of Majesty provides horses for sale, year-round training, breeding, foaling, carriage rides for weddings and the quintessential Vermont sleigh ride. Friesians of Majesty welcomes visitors by appointment.
---