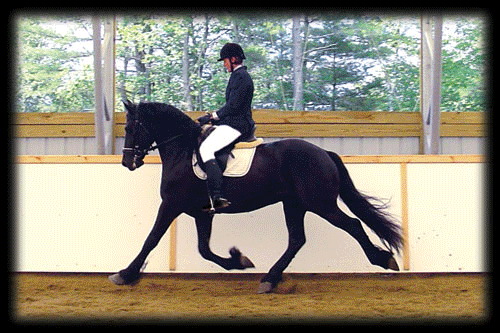 A Unique Vermont Experience!
A Friesians of Majesty equestrian tour and performance creates a magical experience in Southern Vermont!

Friesians of Majesty invites you and your guests to visit our farm for a unique tour experience. Learn about the history of the farm and the special relationship that Robert has with his horses. See our beautiful, majestic horses and witness their wonderful temperament. Meet our spectacular stallions, Othello & Mathijs! Interact with their babies in the mare/foal barn. See the versatility of the Friesians in a show where driving is demonstrated, and a beautiful Friesian with her baby runs at liberty.

The tour and show takes approximately 2 1/2 hours. Pick a date that best suits your schedule from May through October. Audience questions are encouraged, and photo opportunities abound with our unique horses.

We are located in the heart of Vermont's Green Mountains on a 650-acre full-service breeding and training facility. We are the largest Friesian breeding farm in the US dedicated to the promotion and development of the Friesian and Friesian crosses as modern sporthorses. We invite the public to visit our farm and share the magic of the friesian horse!

Call us now to book a date for your group! 802-365-7526

Scroll down for our schedule. Reservations are required.
We ask that our guests arrive no earlier than the scheduled time.
We will attempt to accommodate your availability.
This schedule is subject to sudden change.
If you have reservations for a date,
you will be notified.
2017 Tour & Show Dates and Times Coming Soon
2017 Dates Coming Soon