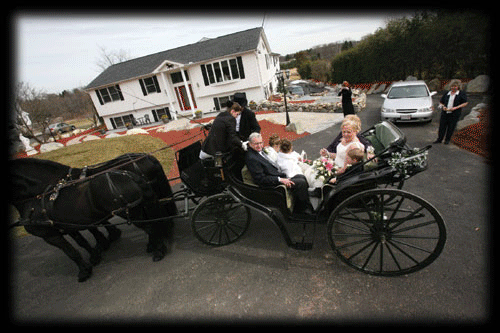 Photographs by Troy Photography LLC
Make Your Occasion a Special One!
Are you looking for something to make your wedding truly unique and spectacular? This is the quintessential alternative to the everyday traditional limousine. Ride in style as our horse-drawn carriage whisks you away in elegance. A Friesian carriage ride will make an extraordinary addition to your beautiful wedding day. Your guests can wave you off in unforgettable fashion. This isn't an ordinary carriage ride, our majestic Friesians have wonderful temperament and regal beauty when performing. Our horse-drawn carriage will offer many photographic opportunities to add to your wedding album. Choose from our 125 year old Park Phaeton or the larger Vis a Vis carriages, or both, to accommodate your wedding party. Friesians of Majesty will greatly enhance your treasured memories of your special day.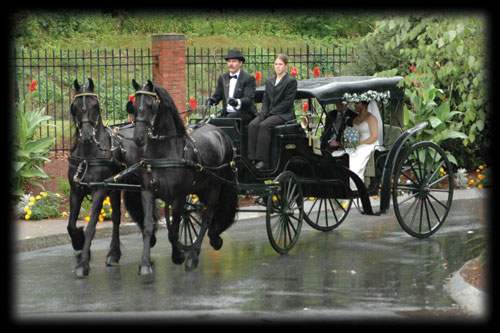 Carriage Rides
Make your wedding, anniversary or romantic outing even more memorable by booking a Friesians of Majesty horse-drawn carriage ride. Our magnificent Friesian horses, either a single regal horse or a spectacular pair, pulling an elegant carriage will be an unforgettable addition to your special event. We can chauffeur you to and from your favorite restaurant or the destination of your choice. You can also book a carriage ride through the scenic Vermont hills and backroads right here on our farm. Choose from our 125 year old elegant, antique Park Phaeton or the beautiful larger Vis a Vis carriages. Our professional and experienced staff is looking forward to serving you.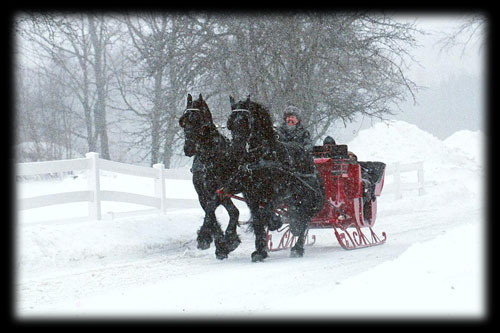 Dash Through Fields of Snow!
Our picturesque farm surrounded by majestic mountains is the perfect backdrop for that special sleigh ride, ideal for any winter occasion. Our guests are taken on our private trails that are groomed especially for the sleigh. The scenery and peace of our woods and trails are unrivaled!
We can accommodate up to four adults on our larger vis-a-vis sleigh, and children of all ages are welcome. Our sleigh rides are typically forty minutes long unless our guests opt to stop sooner. We also offer the option of a tour after the sleigh ride. This includes cookies and hot drinks with your guide, a guided tour of the facilities, meeting the horses and a chance to play and snuggle with our foals!
Reservations are required. Please call or email to book a time.