Karoline
DOB: May 11, 2011
Othello x Ludse 305 (Shiloh)
Karoline is a gorgeous mare sired by Friesians of Majesty's Othello, and out of a ster mare Shiloh.
She is a very loving and sweet horse and loves attention from her handlers and always come to the gate and wants to be chosen to work, or to just to cuddle with you.
Karoline is green under saddle but is trained walk and trot, and she does well with a confident rider and consistent work. She has even been down the road a few times. She loves to show off her impressive movement when turned loose and her a well shaped hind gives her power and drive.
She has very nice conformation for breeding and a very lovely small refined head. She was bred to Friesians of Majesty's Mathijs and settled very easily and is a good mother. She has a very calm disposition on the ground but loves to show off in the ring.
Karoline is a sweet, affectionate, and has lovely conformation and movement. She would be great in any riding or breeding program.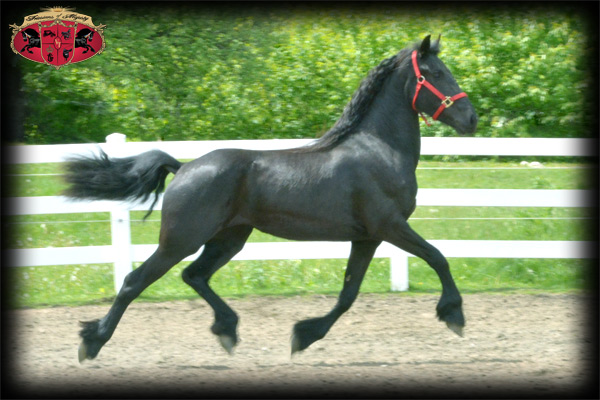 ---